Women Face A Pay Gap In Every Single State. Here's Where It's Worst.
Women Face A Pay Gap In Every Single State. Here's Where It's Worst.
Tuesday is Equal Pay Day, the date that marks how far into the year women must work to earn what their male counterparts were paid the prior year.
A report released Monday by the National Partnership for Women and Families breaks down how bad the wage gap is in each state, including Washington D.C., and highlights which women face the biggest pay disparity. (Spoiler alert: It's not white women.) The analysis uses census data and compares pay for year-round, full-time women and men. 
"Equal Pay Day is a painful reminder that women in this country have had to work more than three months into this year just to catch up with what men were paid last year," National Partnership President Debra L. Ness said in a statement with the analysis. 
Here's where ― and for whom ― the wage gap is the worst. 
Women face a wage gap in every single state
Overall, women employed full time, year-round in the U.S. are paid 80 cents for every dollar paid to men. The difference in median income ― $40,742 for women and $51,212 for men ― amounts to a annual gap of $10,470.
On average, American women lose out on a combined total of more than $840 billion each year.
The wage gap is present across the four industries that employ the most full-time employees ― health care and social assistance, manufacturing, retail trade, and educational services ― and the four occupations with the most full-time workers: sales, production, management, and office and administrative support, according to the report.
The wage gap isn't a symptom of women being less educated. Women with doctoral degrees are paid less than men with master's degrees, and women with master's degrees are paid less than men with bachelor's degrees, the report noted.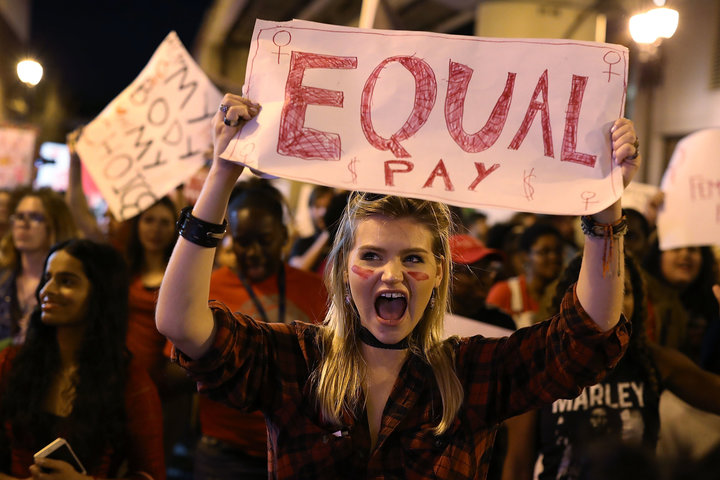 In five states, women earn 71 cents on the dollar or less
With women earning just 64 cents for every dollar paid to men, Wyoming boasts the biggest wage gap ― $19,901 a year. That's at least twice the wage gap women face in 17 other states. It means Wyoming women lose out on a collective $2.1 billion annually.
More than one-fourth of Wyoming's 16,000 female-headed households have incomes that fall below the poverty level, the report notes. 
Things are looking up in a handful of states and congressional districts
While women earn less than 90 cents for every dollar men earn in every state, some states are getting close to bridging the gap.
Women earn 89 cents on the dollar in New York and Delaware, 87 cents in Florida, and 86 cents in Washington, D.C., North Carolina, Rhode Island and California. 
The study also found that there are six congressional districts ― two in California, two in New York, and one each in Maryland and Texas ― where women are paid equal to or slightly more than their male counterparts.  
The gender-wage gap is worse for black women, and even worse for Latinas
Black women and Latinas are disproportionately affected by the wage gap when compared with their white, male counterparts, the report found.
The pay disparity for black women is highest in Louisiana, where they earn just 48 cents on the dollar, followed by Mississippi, Alabama, South Carolina and New Jersey.
That disparity is highest in New Jersey, California, Texas, Washington state and Maryland.
In the end, the wage gap hurts everyone
The report broke down ways the pay gap affects women's investments in their families and participation in the economy.
"These lost wages mean women and their families have less money to support themselves, save and invest for the future, and spend on goods and services," the analysis noted. "Families, businesses and the economy suffer as a result."
If the annual wage gap were closed, each women would have, on average, enough money for 15 additional months of child care, 78 more weeks of food for her family, 11 more months of rent, or up to 8.7 more years of birth control. 
Published at Tue, 04 Apr 2017 09:45:00 +0000