Jim Carrey Makes Shocking Joke About Kavanaugh's Supreme Court Confirmation
Jim Carrey Makes Shocking Joke About Kavanaugh's Supreme Court Confirmation
"What's the positive there?" Carrey asked the audience. "Hanger sales go through the roof?"
The 56-year-old comedian's quip was preceded by other comments and cracks about the controversial vote that confirmed Kavanaugh's nomination as a Supreme Court justice that day.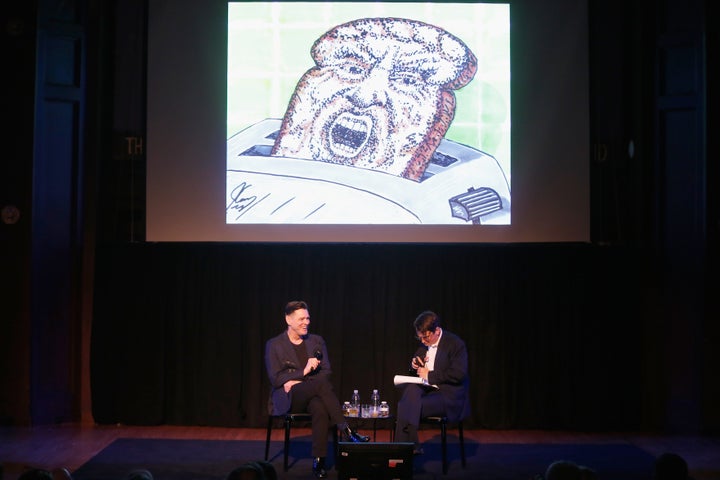 "Today is not the end of the world," Carrey told the crowd before setting his sights on the upcoming midterm elections. "That is tentatively scheduled for November. But you can do something to change it."
He also joked, "Are we going to get to see all those Confederate statues again?"
Carrey has made a name for himself recently by sharing paintings that lampoon President Donald Trump, his supporters and conservatives on Twitter.
On Saturday, Carrey posted a cartoon he had done of Christine Blasey Ford, who publicly accused Kavanaugh of sexually assaulting her when they were in high school.
In September she testified before the Senate Judiciary Committee about her allegation in a hearing that captured national attention. She said Kavanaugh pinned her down at a party, groped her and tried to remove her clothes. He vehemently denied her accusations, as well as allegations of sexual misconduct from two other women.
"Real American heroism. Dr. Ford risked everything to tell the truth about this privileged Kavanaugh goon. Avenge her in November," Carrey captioned his work, adding a voter registration link.
Carrey reportedly took his Ford piece with him to the festival and told the audience that it was hard for him to go to the event in light of what happened that day.
"A country that doesn't take care of its women and take care of its children in our schools is not a country we can fight for," he said.
Published at Mon, 08 Oct 2018 19:09:06 +0000